About Us
Building Bridges Therapy was founded in 2008 to provide a therapy environment for children of all ages and abilities. Our custom facility was designed to accommodate infants through young adults with designated areas for various ages. We are excited to collaborate with other specialists to offer families a variety of services at one location including: Little Listeners Audiology Clinic, Lekotek of Georgia, Georgia Orthopedic Resources, and The George Center for Music Therapy.
The therapists of Building Bridges Therapy have dedicated themselves to improving the lives of individuals with disabilities as well as their families. We know that each service is not independent so we foster a collaborative environment to work as a team to provide the best services for our clients. Our therapists are our greatest asset and we invest in ongoing continuing education to learn new methods and techniques to provide therapy based on the most current research.
Meet the Owners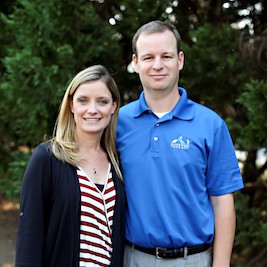 David and Marla Mann founded Building Bridges Therapy in 2008 and are committed to provide the best therapy possible to our clients. Marla utilizes her years of experience as a Speech-Language Pathologist to manage all clinical aspects of the business. David officially joined the team in 2014 as the CFO and manages all financial and insurance aspects of the clinic. We provide extensive training for our therapists so they are able to provide the most up to date, evidenced based practices. We also do our best to keep therapy affordable and work hard for insurance coverage for your services. Please do not ever hesitate to contact us if you have any questions or concerns and we will do our best to address them in the most appropriate way.
The Administrative Staff at Building Bridges Therapy strives to make your therapy experience as smooth and easy as possible. Owners, David and Marla Mann, devote time to each client to ensure that families are receiving the best services including accommodating schedule requests, working with your insurance company to advocate for therapy coverage, and addressing concerns. The office staff includes Beth Grubbs, office manager, and Janet Beltran, office assistant. Our staff works hard to stay up to date on constant billing, coding, and Medicaid changes to keep our clients informed. We have an "open door" for families with any questions, comments, or concerns.
At Building Bridges Therapy, our exceptional Speech-Language Pathologists have all completed Master Degree programs in Speech-Language Pathology and are certified by the American Speech-Language-Hearing Association (ASHA). They are dedicated to the development of each child and their families as they provide the most up to date and evidence-based treatment. Our Speech-Language Pathologists are experienced and knowledgeable in diagnosing and treating the following areas: feeding and swallowing disorders (dysphagia), oral-motor function, articulation and phonology, motor-speech (apraxia of speech), receptive/expressive and pragmatic language, social skills, auditory processing, fluency, voice, augmentative and alternative communication (AAC), and cognitive-linguistic treatment in individuals with various needs and developmental disorders/delays including, but not limited to, Autism Spectrum Disorders, Down Syndrome, Mitochondrial Disease, Cerebral Palsy, and other chromosomal/genetic disorders. Our speech-language pathologists are trained in a variety of programs and interventions including: P.R.O.M.P.T., Kaufman Speech Praxis Intervention, Hanen's It Takes Two to Talk, Fast ForWord, Interactive Metronome, Beckman Oral Motor, Pediatric Feeding including S.O.S. Feeding, Autism Treatment Strategies, and Social Skills development.
Our excellent Occupational Therapists have completed Advanced Degree programs in Occupational Therapy and are affiliated with the American Occupational Therapy Association. They are dedicated to the most efficient and effective care of our clients, specializing and certified in the following areas and programs: Handwriting Without Tears, Aquatic Therapy, Sensory Integration and Processing, Neurodevelopmental Treatment, Visual Processing, Therapeutic Listening, Brain Gym, Interactive Metronome, Beckman Oral Motor, Social Skills, Astronaut Training, SOS Feeding, and First Strokes. These programs are utilized in treatment for children with Hypotonia, Lack of Coordination, Developmental Delays, Sensory Processing Disorders, Autism Spectrum Disorders, Cerebral Palsy, Muscular Dystrophy, Mitochondrial Disease, Down Syndrome, and other chromosomal/genetic disorders.
Our outstanding Physical Therapists have completed their Doctorate Degrees in Physical Therapy and are always discovering innovative ways to enhance the physical development of children with special needs. In addition to land based physical therapy, they are knowledgeable and experienced in Neurodevelopmental Treatment, Building Ambulation, Aquatic therapy, Hippo Therapy, and Body Weight Supported Treadmill/Gait Training services for children with Hypotonia, Lack of Coordination, Developmental Delays, Sensory Processing Disorders, Autism Spectrum Disorders, Cerebral Palsy, Muscular Dystrophy, Mitochondrial Disease, Down Syndrome, and other chromosomal/genetic disorders.
ABA Therapists

Our team of Behavioral Therapists strive to provide the most up to date and research based services. Our Board Certified ABA program supervisor has a Master's Degree in Behavioral Analysis. Behavioral therapy assistants have Bachelor's Degrees in various areas including psychology and child development. All ABA assistants have received individual instruction and specialized training in behavioral therapy techniques including BCBA and Registered Behavioral Technician coursework.
[/fusion_text][/fusion_builder_column_inner]
Building Bridges Therapy offers speech, occupational, physical, and ABA therapy in individual and group settings. Our wide range of therapy options ensure that your child will grow and learn in the method that best meets their needs!
Building Bridges is an awesome place for therapy. Our son has been going here since he was 2 and he is now 7. Without Building Bridges therapy help we don't know what we would've done. They have filled tremendous learning gaps in our son due to epileptic seizures. He can now read and functions normally in the school setting and with peers. The therapists are loving and caring and are very structured in accomplishing goals set. Couldn't ask for a better therapy setting. Very pleased 
My son attended Building Bridges from 2015 until April 2017, he made wonderful progress during his time there. He started as non-verbal at 18 months old, and today he is speaking in full sentences. He has also made progress with OT, PT and ABA. The ABA "pre-school" was great and he still talks about all of his friends and therapists. He would still be attending Building Bridges if we had not moved to Jacksonville, FL. We miss you guys!! Thanks for everything!
We have been attending a variety of therapies (OT, PT, Feeding, and Speech) for the past 5 years. The staff and therapists have been nothing but wonderful to work with. We have had several therapists with us since our daughter was brought home from the hospital at three weeks old… they are like family! I highly recommend the quality of the therapists, the staff, and the facility…. and we can't beat the location!
Get Started
Getting started with services is easy and our staff is here to help, your first step is to call our office.